Community Shield vs Chelsea vs Tottenham SON, 15 APR 2012
Info
Community Shield vs Chelsea vs Tottenham gespielt: SON, 15 APR 2012, Wembley Stadium

Achtung
* Bitte denken Sie daran, dass Wochenendspiele von Samsatg auf Sonntag verlegt werden können, oder umgekehrt. Genauso können Spiele von Dienstag auf Mittwoch verschoben werden, oder umgekehrt. Diese Verschiebungen des Spieldatums können sehr kurzfristig geschehen und wir empfehlen Ihnen, dieses bei der Planung Ihrer Reise zu beachten!
* Wir versichern Ihnen, dass Sie niemals einzelne Sitzplatzkarten erhalten. Wenn Sie Ihre Karten gemeinsam buchen, garantieren wir Ihnen, dass Ihre Sitzplätze entweder nebeneinander oder voreinander liegen.
* Sie bekommen immer Tickets, die sich im Block der Heimmannschaft oder in einem neutralen Block des Stadions befinden.
* Kindertickets (Kind) sind bis zum Alter von 15 Jahren gültig. Ab einem Alter von 16 Jahren benötigt man ein Erwachsenenticket. Das Alter des Kindes wird eventuell beim Einlass ins Stadion kontrolliert. Kindertickets sind nur für ausgewählte Spiele von Fulham und West Ham erhältlich. NB: Tickets für Kinder können NUR in Verbindung mit Tickets für Erwachsene erworben werden!

Lesen Sie sich die Informationen hier genau durch, dann wissen Sie gut darüber bescheid, wie Sie Ihre Buchung erfolgreich durchführen können.

Nachstehend finden Sie mehr Informationen über die Sitzplätze und über die buchbaren Kategorien für Ihr Fußballspiel.
Ab € 195.70
Kategorie
Club Level : Our tickets are Club Level Tickets(Yellow area on seating plan), which incl.:
• Club Wembley VIP Ticket
• Middle Tier location – great view!
• Suitable for fans of either Teams - neutral seating!
• Seating together – always!
• Wide padded seats with arm rests
• Separate entrance to stadium for Club Wembley Ticket holders – no queues!
• Access to Club Wembley lounges, bars and restaurants
• Betting facilities
• Souvenir match program included for all football events

Hotel
HOTEL:
For matches at Wembley Stadion, we do sell Club Wembley Tickets included 2 nights(Saturday to Monday) or 3 nights(Friday to Monday) in one of the following hotels:

Royal National Hotel(**): Central London's largest hotel with 1630 rooms located near Russel Square. The rooms are basic but include all the necessary amenities. Free WiFi in the lobby. Breakfast is included in the price.

Kensington Close Hotel(****): Perfectly located near the shops of High Street Kensington. The hotel has a beautiful private garden, health club, spa and swimming pool. WiFi in all room(not free). Breakfast is included in the price.

Cumberland Hotel(****): Great hotel perfectly located near Oxford Street and Marble Arch. Cumberland is a modern and artsy hotel. Free WiFi at the hotel and in the rooms. Breakfast is included in the price.

Here you can book Twin rooms or Tripple Rooms.

Sometimes, but very seldom, we are advised that we need to change a hotel after the booking is confirmed. If this happens, we will always confirm a hotel of similar standard as the one you have booked, or better!

Your soccer tickets will be delivered to you when you check in at the hotel!

Like all booking of football tickets, you cannot change nor cancel football and hotel packages after you have confirmed and paid your booking!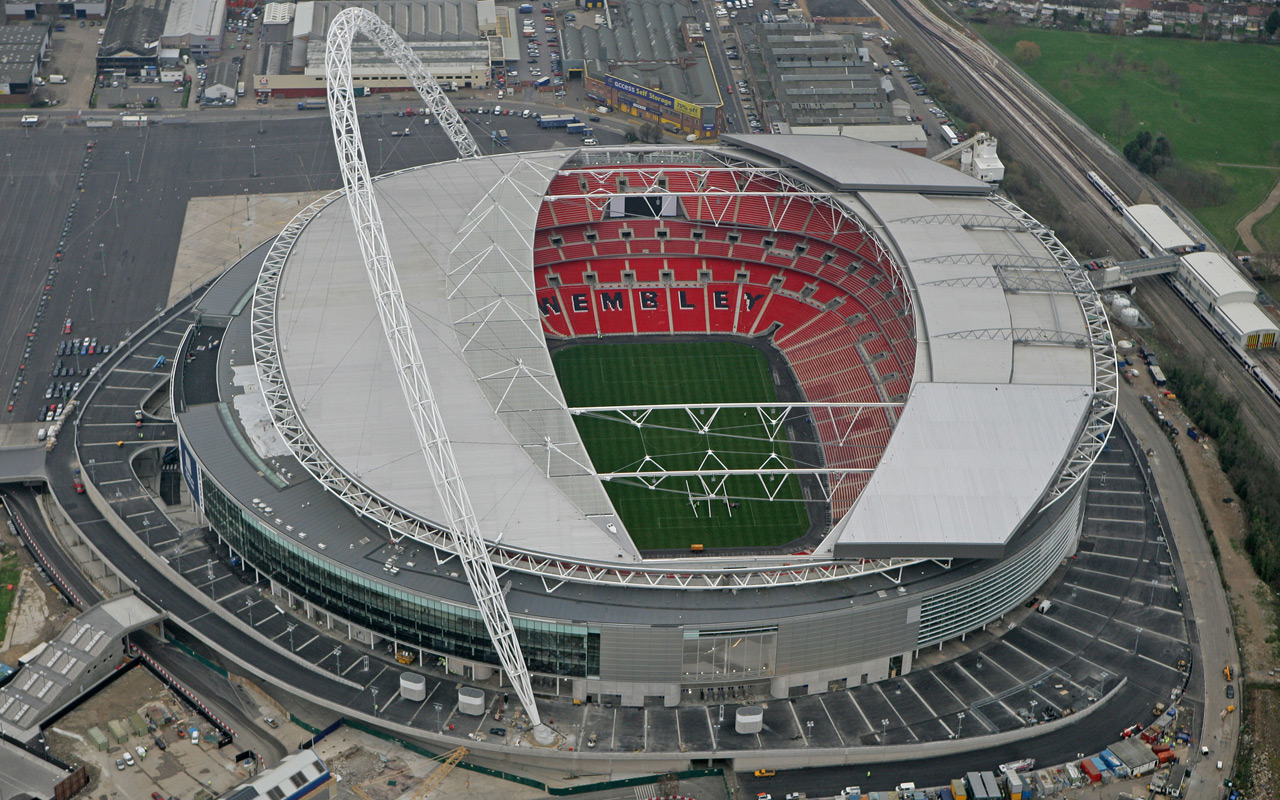 Arena info.
Wembley Stadium
Plätze
90.000
Adresse
Wembley National Stadium
Wembley
London, HA9 0WS




Karte
U/S-Bahn
Wembley Park station (Jubilee & Metropolitan lines) or Wembley Central station (Bakerloo line)
Die Saison ist vorbei. Ticket-Verkauf für die nächste Saison wieder ab Juli/August
Die Saison ist vorbei. Ticket-Verkauf für die nächste Saison wieder ab Juli/August
Die Saison ist vorbei. Ticket-Verkauf für die nächste Saison wieder ab Juli/August
Die Saison ist vorbei. Ticket-Verkauf für die nächste Saison wieder ab Juli/August
Die Saison ist vorbei. Ticket-Verkauf für die nächste Saison wieder ab Juli/August
Die Saison ist vorbei. Ticket-Verkauf für die nächste Saison wieder ab Juli/August
Die Saison ist vorbei. Ticket-Verkauf für die nächste Saison wieder ab Juli/August
Die Saison ist vorbei. Ticket-Verkauf für die nächste Saison wieder ab Juli/August
Die Saison ist vorbei. Ticket-Verkauf für die nächste Saison wieder ab Juli/August